Drywall Lift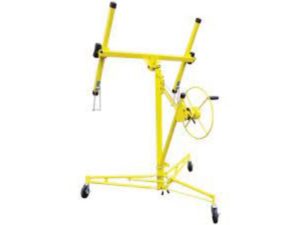 Drywall Lifts make installing drywall easy. Just load your sheet of drywall onto the lift and crank the lift as high as you want it to go. With 15 feet of height you can do even the highest jobs.
Key Features
Maximum Height of 15 ft
Net Weight: 110 lbs
Manual Power Source
Standard Loading Height: 52 in
Maximum Weight Load: 150 lbs
Want to request a reservation or ask specific questions about this item? Reach out and we'll get back to you ASAP.

You might also be interested in:
Do you have heavy appliances you need to move? The American Cart and Equipment Appliance Dolly converts from two wheels…

1200 lb. load capacity, tandem axle (4 wheel) equipment trailer. Tilt deck with knife edge designed for skid steer loaders,…