L. B. White 350,000 BTU Heater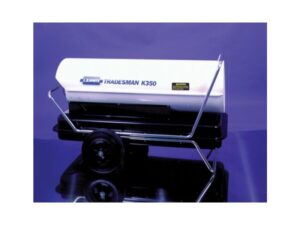 The K350 delivers 350,000 BTU/h, Tradesman K portable heaters meet virtually any construction heating need — from brick and block laying, to concrete freeze protection and worker comfort. For easy and reliable operation, all models feature electronic ignition for sure starts, as well as thermostatic control for automatic operation and consistent temperature management.
Key Features
350,000 Btu/h
1350 CFM heated air output
99.97%+ fuel efficient direct-fired design
Dependable, solid state electronic ignition
Standard thermostatic control
Burns 2.5 gallon/hr
Want to request a reservation or ask specific questions about this item? Reach out and we'll get back to you ASAP.

You might also be interested in: