Master 600,000 BTU Heater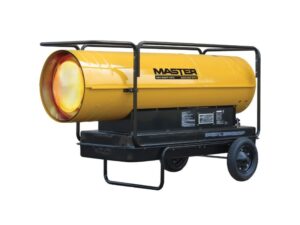 Please note: this unit is not for diesel use!
This 600,000 BTU Salamander/Torpedo style heater from master gives you over 8 hours of heat! Enjoy 3,300 CFM hot air flow and a 14,100 sq. ft. heating area. The fuel take holds up to 36 gallons and you have an automatic low fuel shut off.
Key Features
600,000 BTU
4.0 gal. Consumption per hour
.5 HP Motor
Power Required: 60hz, AC, 120v
High Capacity Blower
Automatic fuel shut-off
Tank Drain Plug
Fuel Gauge
-30 Degree F. Rated Cold Weather Start
ARL listed/certified
For Outdoor Use
Product Dimensions: 42″ H x 30″ D x 76″ L
Product Weight 285 lbs
Want to request a reservation or ask specific questions about this item? Reach out and we'll get back to you ASAP.

You might also be interested in: