Thor Frostbuster Ground Heater / Thawer (LD5030)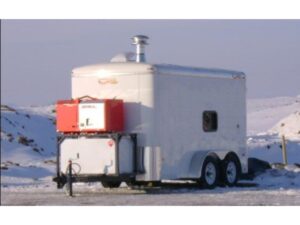 The Thor "Frostbuster" ground heater is your one-stop shop for all your ground thawing, site-prep needs. Just lay the hose over the ground you need to heat up and let the propylene glycol do its job! This ground heating and thawing machine is perfect creating the perfect temperature conditions for, e.g., pouring concrete in winter conditions or digging through stubborn, frozen ground.
General
Maximum Filled Weight…..….…4,800 lbs
Boiler………..…………..….329,000 BTU
Fuel Capacity…………..………102 US gal
Heat Transfer
Fluid Reservoir………..….120 US gal
Hose Length……..………(3) 1,000ft loops
Hose Rating……………………….200 PSI
Electrical Requirements……..…..30 amp, 120 V
Trailer…………………6×12 Tandem Axle
Optional Equipment:
Boilers up to 520,000 BTUs
Diesel Generator Package
1,000 ft Hose Loops
Modine Space heaters up to 250,000 BTUs
Want to request a reservation or ask specific questions about this item? Reach out and we'll get back to you ASAP.

You might also be interested in: